Intelligent solutions for smart business
Everything is smart and connected these days: the computer, the smartphone, the machines, the data center, the car – even the refrigerator. But what about smart buildings?
Optimal air quality are easy and time-saving to monitor. Learn now how this smart system works.
Chargers and charging stations
for private households and smart companies.
Many functions and services in the building can be easily automated and thus made smarter. With Heidler IT Services you create the prerequisite for your Smart Building.
Whether you want to digitize and network lighting, air quality, indoor climate or access controls, we have the solution that will benefit your business in the long run.
Smart.
Buildings.
Numbers.
More than 12.3 billion sensors and devices now collect and evaluate information worldwide. Whether in connected cars, smart cities, Industry 4.0, telemedicine, smart homes or smart buildings – IoT technology has become indispensable. The particular advantage: thanks to sensor data and a better overview, energy consumption in particular can be significantly reduced.
36 % energy saving per m2
Ø 18 % less operating costs
Make your enterprise building smarter.
Planning the IT infrastructure in smart buildings
Smappee – Energy Management in Commercial Buildings
AIRTHINGS – Smart indoor climate – measure CO2, temperature, humidity, air pressure, radon, fine dust particles and light irradiation.
Personal and non-binding consultation
Heidler.
Smart.
Buildings.
With Heidler Smart Buildings, you manage your buildings as intelligently and efficiently as possible.
Improve your building security, save energy, plan and control your meeting spaces, promote hybrid working and create sustainable offices in your building.
Smart.
Charging solutions.
Our smart charging solutions combine the latest technology and cost-effective installation with elegant design.
The Smappee EV Line offers charging solutions tailored to the needs of each individual.
Smart IAQ monitors allow you to monitor the indoor climate and take proactive action as soon as the values deteriorate. In this way, you ensure a pleasant climate and healthy employees. In addition to CO2, other values such as temperature, humidity, air pressure, radon, fine dust particles and light irradiation can also be measured. Thanks to the clear dashboard, all rooms can be easily monitored.
Making invisible energy consumption visible again
Energy management in commercial buildings is usually complex and confusing. By working with our partner Smappee and our smart network infrastructure, the invisible energy consumption becomes visible again. Thus, consumption data of energy, solar, gas and water are collected and evaluated in real time. With the help of intelligent control and dynamic load balancing, energy can thus be saved and operating costs reduced.
Smart Buildings & Predictive Maintenance
Why wait for the heating or air conditioning to fail? In a smart building, predictive maintenance lets you know which devices are about to malfunction or fail – long before they actually do. This allows you to better plan maintenance intervals and order replaceable spare parts in good time.

Today, smart buildings equipped with sensors can automatically adjust to changing situations or proactively report potential problems. For building security, smart buildings are a challenge, as different systems often come together here, such as fire and intrusion alarm systems (EMA) or access controls (ZuKo). All these systems must be bundled and monitored in a hazard management system. All warning and alarm systems are centrally managed and controlled in the hazard management system. The advantage: You always know exactly what is happening in your building and can act in time in dangerous situations. The advantage: You always know exactly what is happening in your building and can act in time in dangerous situations.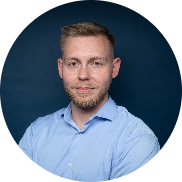 Lukas Zobel
Project Manager Smartbuildings
How conventional buildings become smart
The prejudice that you can only make new buildings smart has persisted for a long time. But nowadays, just about any device can be retrofitted with the appropriate interfaces and integrated into the network. In this way, even the oldest building can become a smart building.
Download information material: